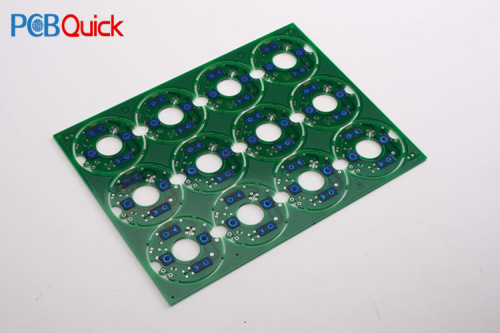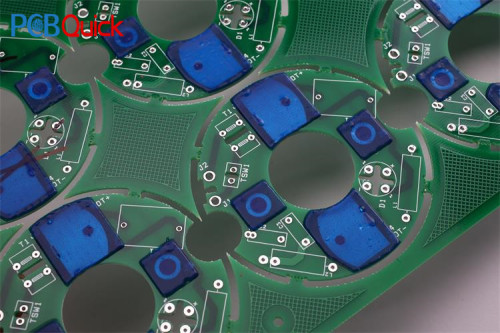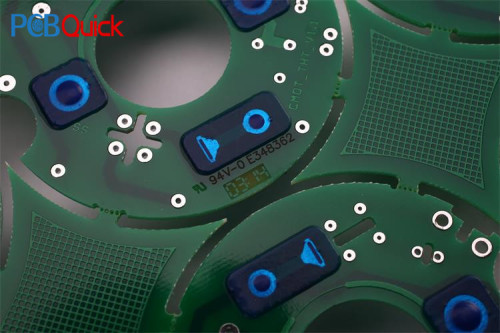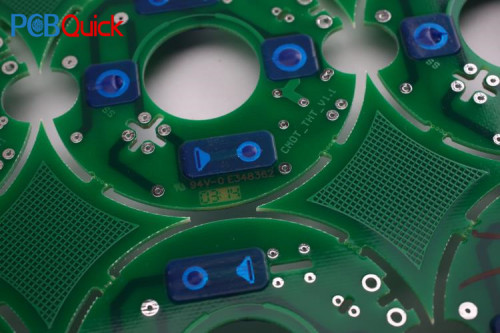 FR4 Multilayer PCB Manufacturing With Blue Peelable Mask Layer
Item specifics
Material

FR4
Board Thickness

1.6mm
Soldermask Color

Green
Silkscreen Color

White
Surface Technics

ENIG
Description
Blue peelable mask layer is applied to:
1. Corrosion protection of various acid and alkali solutions;
2. Protection against electric corrosion of various electroplating solutions;
3. Various electroless plating protection.
Do not print blue glue under the following circumstances
1, surface treatment for tin, silver and other easy to be oxidized and easy to wipe the board, not printed blue glue.
Reason: this plate surface treatment process is easy to be oxidized, can not bake the plate, but after printing the blue glue must be through the baking plate to solidify the blue glue.
2, not double-sided printing blue glue.Reason:
A) double-sided blue glue enters the hole, and it is difficult to tear off the blue glue;
B) after printing one side, the blue glue bulges, causing uneven, inconvenient printing the other side, and easy to cause plate bending problems;
C) plate bending is not easy to measure.
Peelable mask pcb performance
1. No solvent volatilization, environmental protection and safety, almost 100% solid content, almost the same thickness of dry and wet film;
2. High thixotropy, effectively ensuring smooth screen printing edge, strong cover pore force and slight vertical flow;
3, good adhesion is not peeling off;
4. Easy to peel, complete, no residual flow, no impact on the bottom layer;
5, does not contain any metal and non-metal monomer, corrosion resistance process will not dissolve any material, no impact on the original solution. The pass hole is easy to be peeled off without residue and has no effect on the original solution.
Required drying conditions

First printing

Second printing

Double-sided printing

Cabinet oven

temperature & time

Infrared tunnel furnace

temperature & time
NO
Item
Craft Ability
1
Surface Finish
HASL,Immersion Gold,Gold Plating,OSP,Immersion Tin,etc
2
Layer
1-30 layers
3
Min.Line Width
3mil
4
Min.Line Space
3mil
5
Min.Space between Pad to Pad
3mil
6
Min.Hole Diameter
0.10mm
7
Min.Bonding Pad Diameter
10mil
8
Max.Proportion of Drilling Hole and Board Thickness
1:12:05
9
Max.Size of Finish Board
23inch*35inch
10

Rang of Finish Board′

s Thickness

0.21-7.0mm
11
Min.Thickness of Soldermask
10um
12
Soldermask
Green,Yellow,Black,White,Red,transparent photosensitive solder mask,Strippable solder mask
13
Min.Linewidth of Idents
4mil
14
Min.Height of Idents
25mil
15
Color of Silk-screen
White,Yellow,Black
16
Date File Format
Gerber file and Drilling file,Report series,PADS 2000 series,powerpcb series,ODB++
17
E-testing
100%E-Test:High Voltage Testing
18
Material for PCB
High TG Material:High Frequence(ROGERS,TEFLON,TADONIC,ARLON):Haloger free Material
19
Other Test
Impedance Testing,Resisitance Testing,Microsection etc
20
Special Technological Requirement
Blind&Buried Vias and High Thickness Copper
UL, TS16949, ISO14001, ISO9001-2008, and RoHS